The appearance of your business environment speaks volumes about the quality of your work and level of customer service you provide. Apex Carpet & Upholstery Care specializes in maintenance programs for all your carpet, upholstery, and stone/tile flooring. Even in bad weather, we can have your common areas looking great all the time, so you never have to worry if the foyer's carpet turns customers off.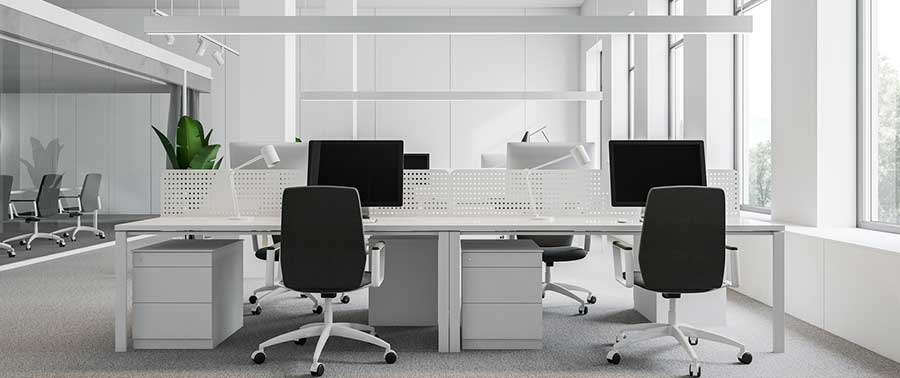 Apex provides a solid array of professional commercial cleaning services, including carpet and upholstery, tile and grout, and water damage restoration services. We work within your budget to develop a cost-effective plan of attack to keep your facilities looking fantastic to the public. Incidentally, keeping your business looking good actually costs less over time than waiting until it declines in appearance to finally do something about it.
Apex Carpet and Upholstery Care offers
money-saving maintenance plans
for business/commercial building owners. Cleaning carpet, upholstery, and tile floors in public areas will always cost you less if done on a regular basis. It is easier to clean and maintain an office that receives regular care, which translates into less expensive service visits.
• We develop a money-saving plan to help you keep all of your building's carpet clean and tidy all year round. We can structure the program to frequently clean the high-traffic areas and clean less used areas on a much less frequent basis.

• We can do the same for your upholstery. Chairs and other seating can be cleaned in public areas more often, while small office chairs or conference room furniture can be cleaned only on an as-needed schedule. It only makes sense to do it this way.

• We can regularly visit your facility to make sure your tile/stone floors are kept clean in all of the common areas. Show off their natural beauty and enhance their appearance by keeping them clean, instead of allowing the grout to become dirty from foot traffic and mopping.
The ORBOT Vibe generates a powerful form of agitation that delivers superior results in all professional deep and interim cleaning, scrubbing, grinding, stripping and polishing applications. Certified by the Carpet and Rug Institute (CRI) as a Deep Cleaning System, the ORBOT Vibe quietly and effectively cleans your commerical property. Carpets dry within minutes!


The Rotovac Bonzer speed cleans carpet by capturing and delivering all the power our truckmount generates. Seven spray jets are completely encapsulated under the manifold to ensure that no steam or heat escapes the cleaning zone. High speed carpet cleaning in both directions!


In the event of a water damage emergency, Apex is there for you around the clock to help you get back in business as soon as possible. We use only state-of-the-art equipment and professional procedures. We are also fully certified by the I.I.C.R.C. to give you the absolute best in service and skill with the latest knowledge and methods. We can even work directly with your insurance provider or property manager to protect your interests and investments.